Javascript must be enabled to continue!
Ionian Contemporary Animation Festival ICONA 2023 - Official Selection and Free Registration for Screenings
Updated: 27-10-2023 17:51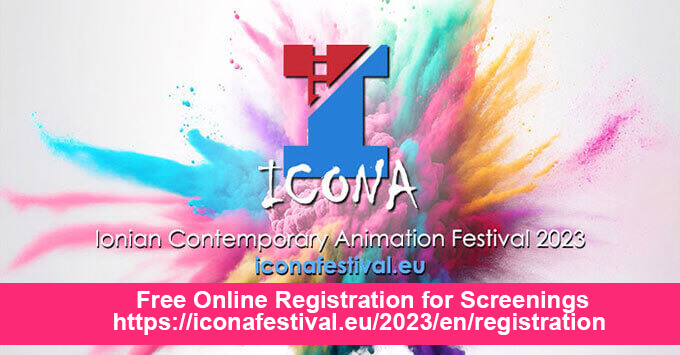 The fifth Ionian Contemporary Animation Festival ICONA 2023, organized and promoted by the Department of Audio and Visual Arts of the Ionian University had exceeded our expectations with more than 1.440 submissions.
Although competition was fierce, the committee's work was successfully completed with a selection of 303 films from 59 countries.
First of all, we would like to thank everyone who submitted their films to the ICONA festival and congratulate the final contestants.
List of selected films:
https://iconafestival.eu/2023/en/selection/
Movie Selection Committee
Marily Argyrokastriti
Maria Boua
Maria Chalkou
Aris Chatzipapas
Alkistis Georgiou
Ioanna Giakoumatou
Maria Katsaridou
Nikos Kokkalis
Maria Krigka
Maria Loukou
Angeliki Malakasioti
Hari Marini
Christina Mitsani
George Nikopoulos
Iakovos Panagopoulos
Michalis Panagopoulos
Fotis Raftopoulos
Margarita Simopoulou
The screenings of the festival, which will take place in hybrid mode, from November 30th to December 3rd 2023, will be available worldwide only for registered users with password.
Free Registration (via Google, Facebook or ICONA  subscription): https://iconafestival.eu/2023/en/registration/
---
Back