Javascript must be enabled to continue!
Selection
Lights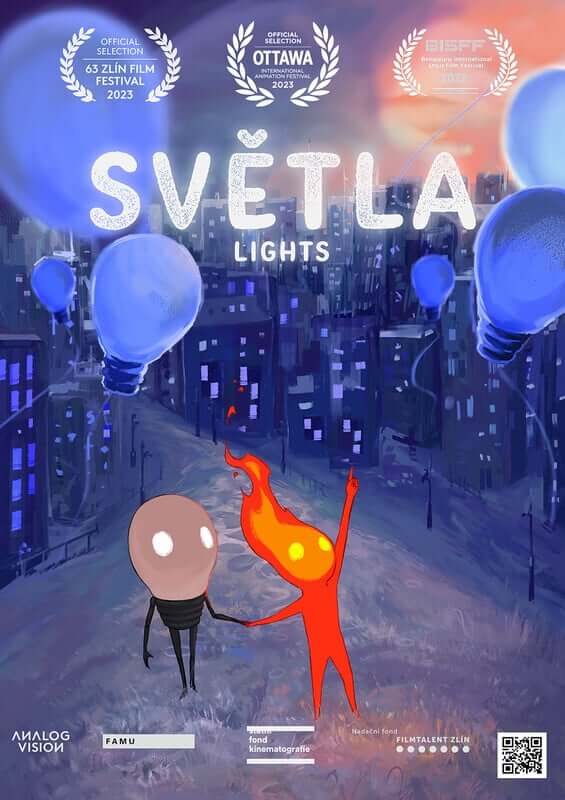 Screening:
Student Competition 5
Czech Republic 2023
Duration: 08:26
Directed: Jitka Nemikinsová
Screenplay: Jitka Nemikinsová
Production: Veronika Kührová, Michal Kráčmer
Lightbulbs are throwing a party for growing up flames to welcome them in the system that will let them shine and protect them. But one flames likes to play with fire and rebels against the system. ----- In a small town inhabited by lightbulbs, a big public birthday party is taking place. It's an initiation ritual for small flames. A glass bulb is placed on them, so that they can shine forever. This means they are adults and are a part of the lightbulb community. But eternal life isn't for free. The last flame in the row notices that with every new adult, candles on a cake are dying out. He points this out to the flames before him. One flame decides to take off its bulb and keep its candle alive, but it dies out trying this. The last flame isn't waiting for anyone, he grabs his last candle and he runs home. He meets his mother at home. She tries to convince it to give lightbulbs a chance. The mother is a lightbulb herself and she tries to stop her child. But the flame isn't listening to her and runs away. Lightbulbs follow him as he runs away from the town and continues its rampage. Anything he sees, he sets it on fire. The mother is worried about him. When it starts raining, she sneaks out of the town and saves her child right before he dies out completely. When Flame wakes up, he's a lightbulb. His mother calms him down and sits him down at the table. She brings out a birthday cake and she shows Flame that he can light the candles when nobody's looking. And that he can take off his bulb only for a second. One by one, they light all the candles.
Back