Javascript must be enabled to continue!
Selection
Wildlife Cameraman (Summer Farm)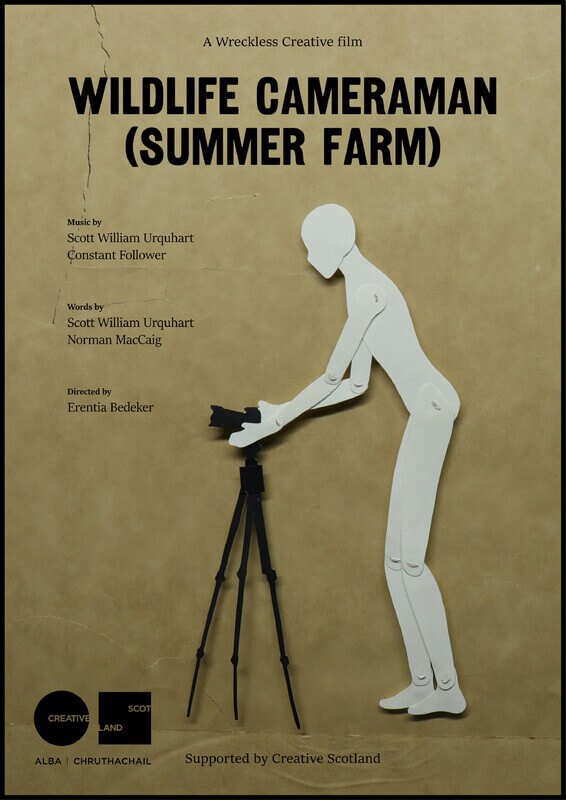 Screening:
Professional Competition 2
United Kingdom 2023
Duration: 03:49
Directed: Erentia Bedeker
Screenplay: Norman MacCaig, Scott William Urquhart
Production: Stephen McAll
Dialogue Language: English
Wildlife Cameraman (Summer Farm) is a music video/poetry film based on the poem "Summer Farm" by Scottish poet Norman MacCaig with music and lyrics by Scott William Urquhart & Constant Follower. The film focuses on the connection between nature and our inner world. McCaig's poem looks outward to nature, noticing the simplistic details which become a metaphysic web that connects all living things. The expansiveness of nature often triggers an inward journey when we feel disconnected from ourselves and the world around us. The true self manifests as the inner child who is always true and pure no matter what hardships we might face. We can lose touch with our inner child, but the connection can never be severed. We can always find our way back to ourselves and to nature. 'Wildlife Cameraman (Summer Farm)' is taken from the album Even Days Dissolve.
Back