Javascript must be enabled to continue!
Selection
New Year's Kaleidoscope / Новогодний калейдоскоп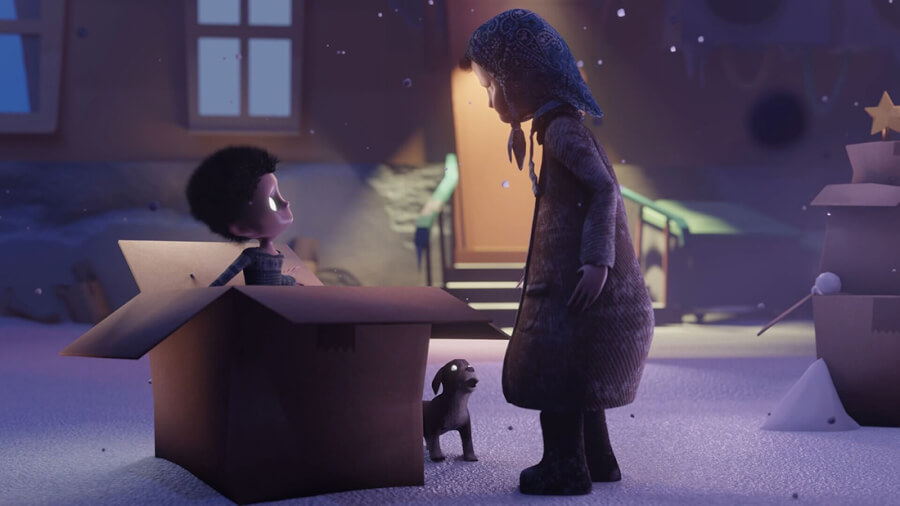 Screening:
Professional Competition 2
Belarus
Duration: 15:50
Directed: Vitaly Androsyuk, Daniil Zhugzhda, Yana Aristova-Galinovskaya, Julia Pintsak
Screenplay: Vitaly Androsyuk, Daniil Zhugzhda, Igor Volchek, Julia Pintsak
Production: Vladimir Karachevsky, National Film Studio «Belarusfilm»
Dialogue Language: No Dialogue, Russian
15 minutes 50 seconds, mixed technique, 0+, 2023 Long sinopsis: New Year's almanac of directors debuts. Episode «The Box» (3D animation technique). Philosophical fantasy story, which takes place on New Year's Eve in the yard of the house, in a box. A box is a symbol of the inner world of man. A little boy runs into the yard, unexpectedly finds there a friend - a small dog. Together are much more fun. A boy frolics with a dog in the yard, and recalling what day today - decides to build a New Year tree from ordinary cardboard boxes. Episode «Mission impossible». On New Year's Eve, a little girl decided capturing of Santa Claus with all gifts, because she wants to have the personal holiday a whole year. She prepared thoroughly, made a plan in advance to capture Santa Claus, set traps on the way to the Christmas tree and went to bed. But she didn't even know that Dad had a gift for her too. But in order to deliver a gift to the place they both need to pass the most difficult obstacle course. Neither the girl's father nor Santa Claus expected such a turn of events. Who will be the first to put down a gift under the tree? Maybe working together they will be made the mission possible? Episode «New Year's Adventures» (2D paperless hand-drawn animation graphics technique). Father Frost set out on the road to give people a holiday and a sense of joy, but while he was getting to his destination, the unforeseen happened. On the way, he discovered the depressing circumstance that adults and children were so hung up in their gadgets that they full went into the virtual world. Nobody rides sledding, does not play in snowballs, does not sculpt snow woman. Everyone forgot about Father Frost, and the holiday for everybody not important. In order for Father Frost not to make, people don`t notice the New Year magic. Father Frost is upset and already doesn`t wants nothing. Will a New Year come? But all things can suddenly be changed. Episode «Summer in Winter» (2D cutout animation technique). New Year's Eve. Little boy is bored while grandma makes the final preparations and sets the table. In search of activity, the boy comes across a fascinating rack with banks, in which situated «canned» of the seasons. After waiting for Grandma to leave the room, he go to the shelf to get a jar of "the Summer" and study it properly. But due to the awkwardness of children's hands, the jar which named «the Summer» fallens , breaks to pieces, and its summer contents burst out. The boy is frightened, the winter landscape outside the window is rapidly changing into the summer. The Chaos is reigned. What can do for prevent the problem? Short sinopsis: New Year's almanac of directors debuts. «The Box» episode. A fantasy episode that takes place on New Year's Eve in the yard of a house. A little boy with his new friend - a small dog, decides to build a Christmas tree out of ordinary cardboard boxes. «New Year's Adventures» episode. Father Frost is on his way to give people a holiday but something unexpected happens. People are so addicted to gadgets that they forget about Father Frost. No one cares about the celebration. Will there really be no New Year's Eve? «Summer in Winter» episode. What would happen if naughty children's hands mixed summer and winter on New Year's Eve?
Back