Javascript must be enabled to continue!
The Animation Festival ICONA 2021 was successfully completed
Updated: 10-12-2021 11:59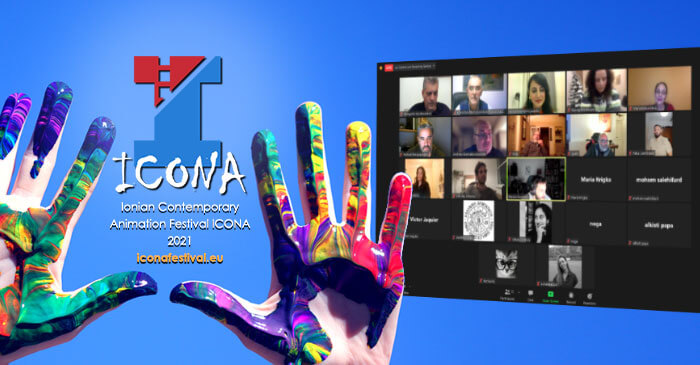 The Animation Festival ICONA 2021, which took place from the 2nd to the 5th of December 2021, exclusively online, by the Department of Audio and Visual Arts of the Ionian University, was successfully completed. The festival program included both professional and student competitions. A total of 273 films (153 professional and 120 student short films) from 59 different countries were screened. The artistic committee consisting of the Artistic Director of the Festival Konstantinos Tiligadis, Assoc. Professor at Ionian University and Deputy Head of the Department of Audio and Visual Arts, the Vice President of ASIFA Hellas Panagiotis Kyriakoulakos, Assistant Professor of the University of the Aegean and the Director of Chaniartoon - International Comic & Animation Festival Marios Ioannidis evaluated the films and awarded the following awards: Awards 2021
The Festival's Award Ceremony took place online on Sunday, December the 5th, 2021. The ceremony was honored by the presence and greetings addressed by the Deputy Regional Head of e-Government & European Programs of the Ionian Islands Region, Dr. Konstantinos Kapodistrias and the Mayor of Corfu Mrs. Meropi Hydraiou.
The ceremony, on behalf of the Ionian University, was attended by the Rector of Ionian University, Professor Andreas Floros, the Head of the Department of Audio and Visual Arts, Associate Professor Andreas Giannakoulopoulos, the Director of the ICONA Festival and the Deputy Head and Associate Professor Konstantinos Tiligadis, and the President of the organizing committee of the Festival, Assistant Professor Michail Panagopoulos.
Also the ceremony was attended by the Vice President of ASIFA Hellas and Assistant Professor of the University of the Aegean, Mr. Panagiotis Kyriakoulakos as well as the Director of Chaniartoon - International Comic & Animation Festival Mr. Marios Ioannidis.
The best part of the ceremony was the participation of several of the winners - from Israel, the United Kingdom, Taiwan, Lebanon - who received their awards and spoke about their films and experiences from their participation in the ICONA Festival 2021.
The Head of the Department of Audio and Visual Arts, Associate Professor Mr. Andreas Giannakoulopoulos, made the following statement for this year's event, after its completion:
The Department of Audio and Visual Arts has successfully organized for the third consecutive year, from December 2 to 5, 2021, the ICONA Festival.
The number of submissions was even higher - compared to last year - with films from 59 different countries around the world. Our goal was and remains the same: a festival equal to the best animation festivals in the world and this year's event was one step closer to it.
A dynamic artistic community continues to develop around ICONA, a community looking optimistically to the digital horizon of a bright artistic future!
---
Back